'Monster' María has forced Puerto Ricans to migrate
Weeks after Hurricane Maria struck Puerto Rico, more than half of the island remains without power. And for many Boricuas, it's the final straw pushing them to seek greener pastures.
Sonia Solá, her husband Hector Baéz, and her two children Esteban, 14, and Claudia, 18, had plans to move to Florida long before Hurricane María razed their island, Puerto Rico.
The economic crisis kept escalating, pushing Baéz to close his business, a nursing home in Caguas on the east of the island. Luckily Solá, 43, still had a job and was able to provide for her family. Claudia had just graduated from high school and was ready to start college.
But after Hurricane Maria hit the island, there was truly nothing left for them.
"This was like a monster that attacks you and doesn't want to leave…and you are helpless," Solá said.
Solá and her children decided to flee Puerto Rico on October 16, three weeks after Hurricane María. The family left their home behind and arrived in Orlando, Florida, to their relative's home to start a new life…hopefully a better one.
Solá is just one of the tens of thousands of Puerto Ricans who are leaving the island to resettle in the mainland. Most of them are arriving to Florida. Some are lucky to have family; others have nowhere to stay. They are simply escaping from the monster Solá and the three million Boricuas had to witness on September 20.
On that night, Solá and Baéz were in their room waiting for Hurricane Maria to pass while their children slept.
"We thought our windows were going to fly off the house. The walls were shaking. I can't imagine the people whose houses were made of wood," Solá recalled as her voice trembled.
The island was recuperating from Hurricane Irma, but Mother Nature had other plans – and Hurricane Maria hit the island directly just a week after the first storm. The category 4 hurricane has been the most catastrophic for Puerto Rico in modern history.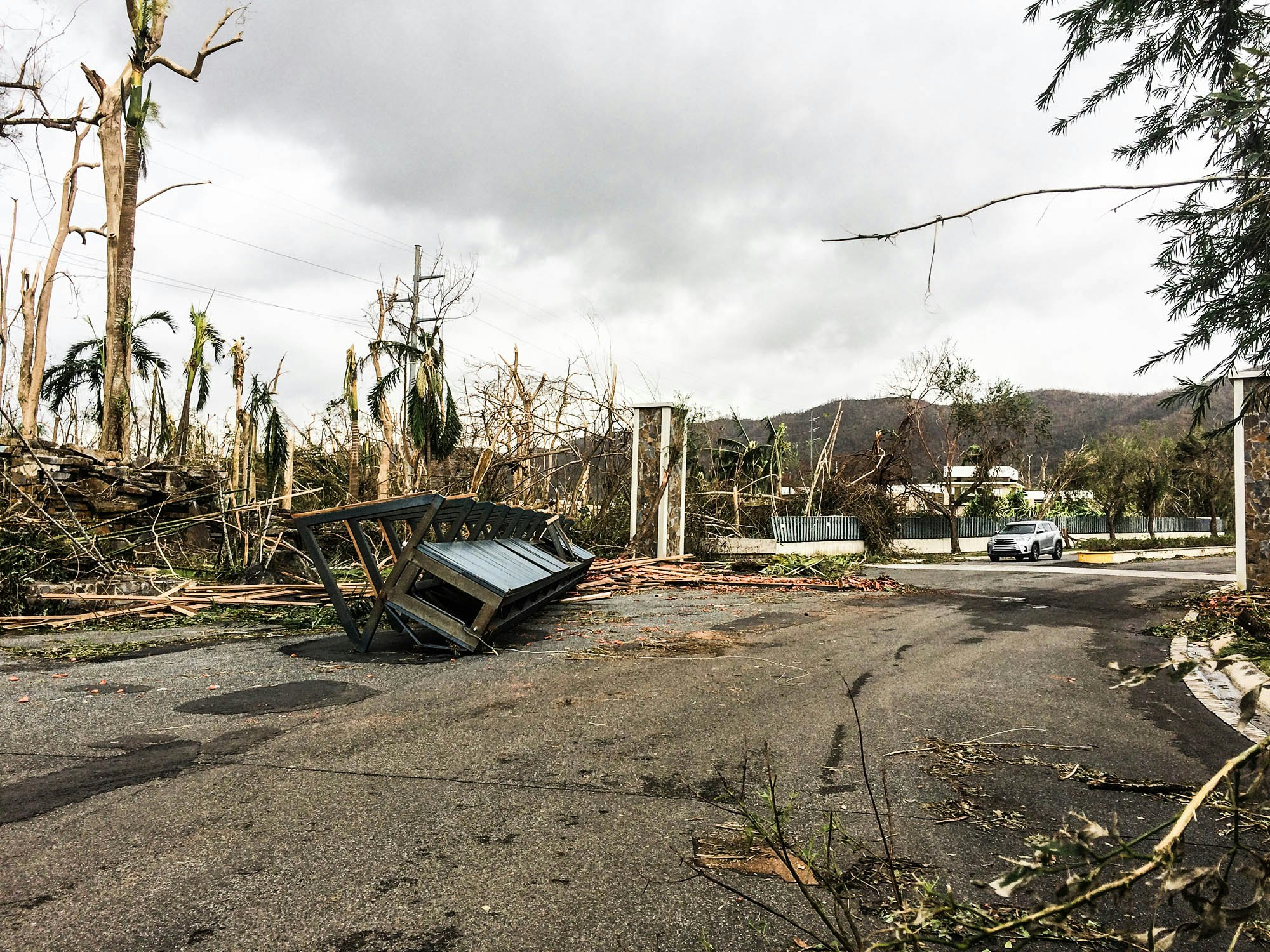 As the hurricane was passing, Solá was communicating through WhatsApp with her relatives and coworkers until the island was in complete darkness.
"We lost power by midnight. We did not have water next morning," Solá told Beyond Borders.
The massive natural disaster left 95 percent of the island without power.
"We got out of the house and started walking around the neighborhood. The light poles that are made by cement were knocked down. You could see trees ripped out, blocking the streets. Everything was dry. Everything was burnt."
Solá still had no power by the time her daughter Claudia's 18th birthday came, on September 29. They celebrated with their neighbors outside on the street, in the darkness.
Even then, Solá tried to look on the bright side.
"It was really special because we got to get closer to our neighbors."
But a full month later, 1.5 millions Puerto Ricans were still without power. And without power to pump water into their homes, this means the Boricuas are deprived of even the most basic necessities of life: water.
Health problems started to arise due to lack of clean drinking water. The lack of power has also pushed up unemployment rates. Gas stations did not have enough gasoline. The island descended into chaos.
The humanitarian crisis kept escalating as many families were not getting enough help from the government. Federal Emergency Management Agency (FEMA) admitted there was a shortage of food, as reported by The Guardian. They were distributing 200,000 meals a day to two million people in need.
And while the official death toll of the hurricane is hovering around 54, so far over 900 people have died of "natural causes" as a result of the tropical storm.
The despair among Boricuas across the island pushed thousands of them to flee. It was a tough decision many had to make in order to survive.
For Solá and her husband, the choice came down to the future of their children.
"Our major concern was our children's education," Solá said.
Claudia was about to start her first semester in psychology at the University of Puerto Rico. But Hurricane Irma came and classes were cancelled. Esteban's school has also remained closed after the natural disasters.
When Florida Governor Rick Scott announced that universities in the state were accepting Puerto Ricans, allowing them to pay in-state tuition rates, the family knew it was time to make a change.
"We took this positively. We packed our bags and left our home."
About 320,000 Puerto Ricans live in Central Florida —according to the latest U.S. Census data. However, these numbers will increase in the next few months. The Guardian reported that "as many as 100,000 Puerto Ricans" will arrive in Florida in the next few weeks.
Esteban has already started school in Orlando. Claudia has enrolled at Valencia College. Solá will be going to Puerto Rico at least once a month to report to her job, where she sells life insurance. She is hoping her job can transfer her to Florida. Her husband remains in Puerto Rico, working.
"We are now half Puerto Rico, half Orlando."
At the time of reporting, 82 percent of Puerto Ricans now have access to water –  although it's such poor quality that some officials fear a health crisis. Only 33 percent of power generation has been restored, according to the estatus.pr website that tracks the restoration of the island.
"I cried on the plane, watching my island," Solá said. "I thought, 'there is no going back'. It has not been easy. This is our first time coming to Orlando. But it is for the best…and our children need a better life."
There are many relief and recovery efforts where people can help by making donations or volunteering like Unidos Por Puerto Rico, Hispanic Federation and The Hispanic Office for Local Assistance (HOLA).
The people of Puerto Rico are resilient. These 3.4 million American citizens deserve a full recovery – but they need everyone's help. It is urgent.
Let's not forget about our fellow citizens whose island, so full of enchantment, needs us sorely right now. 
Published on Nov 6th, 2017
Text: Maria Camila Montañez. Title photo: Reuters/Alvin Baez